Apple iPhone 12 series is down the line to its launch and there is a lot of hype and rumors going on about this device. If you guys don't know iPhone 12 series is coming along with four variants. Three new models are the same as the previous series and the fourth model of the iPhone 12 is the max variant of the base model which is iPhone 12 Pro Max.
Let's discuss Price
Apple iPhone 12 base model Price is 649$ expected. Whereas the iPhone 12 max expected price is 741$, iPhone 12 Pro 997$ and iPhone 12 Pro Max expected price is 1092$. Let us tell our readers that these prices are in US Dollars so in which countries Apple iPhone is not manufactured there will be the customs duty and import charges will be applied which may increase the price of device up to 20% to 40%.
There is also news coming out that maybe Apple iPhone launches iPhone 12 the base model and 12 Pro Max in 4G variants as well.
iPhone 12 series is Apple's most affordable device if you compare it with previous models thanks to its competitors and rival brands.
A company like Apple doesn't consider any other brand or a company as its competitor but deep down market shares and production values of lots of products are breaking the buyer ratio of iPhone. There can be lots of perceptions about this logic but a brand like Apple is not launching its iPhone for just 300 dollars for no reason there is a hint to get his market value back.
Build & Design
If we talk about iPhone 12 series build and design the product is coming like its older models like iPhone 4 or 5 boxy shape like the sidebars are not going to curve like iPhone X, it will be like slabe design which is in our opinion will look amazing. The firm factor will be compact because the display of this new device is going to start from 5.4" inches.
iPhone 12 display will be 5.4" and it will be the smallest variant of this series. Whereas the display size of 12 max and 12 pro will be 6.1" and if you want big display 12 pro max will be coming out with 6.7" display size. There is good news that in these four variants buyer will get Oled display and the panel which is used in these devices will be coming from Samsung.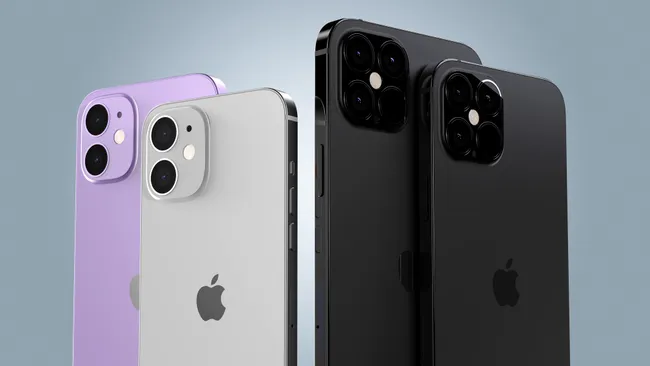 In iPhone Pro and iPhone Pro Max user will experience a high refresh rate which means 120Hz of pro motion display. We hope iPhone 12 all variants should have baze resolution full HD because in iPhone 11 720p panel resolution was too bad so we hope it will not hurt this time. Let us tell our readers that the 120Hz  panel is now the minimum benchmark in every flagship phone. But on iPhone, if they give 120Hz panel and then users complain that this fast refresh rate is draining the battery then it will affect the user experience and for this high refresh rate, they need more power full battery which they have to increase.
The notch of the display will shrink somehow and it will increase the real state of the display. Touch id may not be found, take it in display or side-mounted, the fingerprint should be in the device which is the exception now.
Recently there were rumors that iPhone 12 may not have the charger or earphones and they showcased the reason that by this they can minimize the price.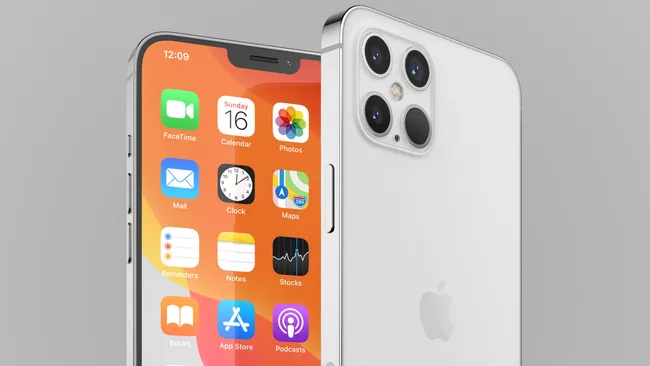 We have two opinions about it, first one is Apple is spreading this rumor and by this controversy, they will get the hype, and the second thing the adopter which user will get in the box will be not so efficient (useless). You definitely and have to buy a fast charging adopter from the market.
In iPhone 12 series users will get Apple's self A14Bionic Chip which is five-nanometer technology-based. There A14 Bionic Chip CPU will run on 400Mhz clock speed which makes it 13% faster. All four variants will be 5G Models.
Camera
If we talk about cameras on iPhone 12 and 12 Max there will dual camera setup. This camera setup includes 12 megapixels @f1.8 wide lens and secondary 12 megapixels @f2.2 ultra-wide-angle lens.
iPhone Pro and Pro Max will be coming out with a quad rear camera setup in which the 3rd module will be 12 megapixels @f2.2 telephoto lens and the fourth sensor will be the 3D time of light sensor for better depth detection. Users will experience cameras major updates in Pro series only.
A good thing is that in video mode users can shoot in 4K with 240 FPS with its main sensor. This is something epic which any other company has not yet introduced.
Features
If we talk about the features of the iPhone 12 the device will come with the latest iOS build 14, iOS 14 is also now customizable like an android. For water and dust protection device is IPS 16 certified. The remaining general features are like the same old model.
Its expected launch date is in September 2020 but the date is not yet confirmed and these all above specs are from different sources.
Stay connected with us for more updates.